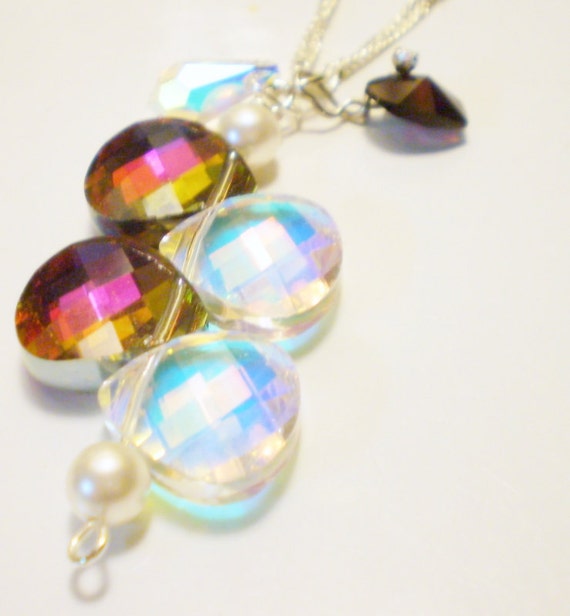 This is a new interpretation of my original necklace Fire and Ice made with Czech glass faceted briolettes in clear and garnet nestled together on sterling silver wire. A sparkling Swarovski crystal drop and deep garnet Swarovski crystal heart dangle above accented with a Swarovski pearl. The 18" sterling silver twisted rope chain ties the piece together.
Like the original Fire and Ice, this design is inspired by the Robert Frost Poem "Fire and Ice":
Some say the world will end in fire,
Some say in ice.
From what I've tasted of desire
I hold with those who favor fire.
But if it had to perish twice,
I think I know enough of hate
To say that for destruction ice
Is also great
And would suffice
I remember analyzing this poem in AP English and proposing the argument, as many have before and after me, that this wasn't only about the way the world would end but rather spoke more about the human condition and relationships and what happens when fire and ice come together.
The natural forces of fire and ice are conveyed as equally destructive as the most common acts of humans which are desire, or love, and hate. But every once in awhile (maybe not the Pat Benatar song) fire and ice come together and create a wonderful synergy.
That's what this necklace is all about...taking those elements that should not be mixed...and creating something above and beyond what each element can ever be separately.
Giving Fire and Ice II as a gift? It was arrive on your doorstep beautifully wrapped and ready for giving. And as always, there is FREE SHIPPING at Zur Designs!